Window Tinting FAQ's
Here are some commonly asked quetions about our services.
Please do not hesitate to contact us with any other queries you might have on 07989 484897.
Will tinting my windows affect my vehicle insurance?
Tinted windows are listed as a vehicle modification with most insurers but should have minimal to no effect on your policy. However, we would recommend checking this beforehand as policies differ between insurers. You must also be compliant with the law, for more information on the legalities of tinting windows please click here.
How long does it take?
We have flexible opening hours and can make an appointment at a time to suit you. Usually window tint installations take around 2-3 hours.
How long do I need to wait before opening my car windows?
We recommend that you do not open your vehicle windows after having tint applied for 48-72 hours. This allows the tint to dry and minimises any risk of damage.
Can this be removed if I don't like it or decide to return the vehicle to original condition?
All of our films and vinyls are top of the range and can be removed without causing any damage to you glass or paintwork therefore returning the vehicle to original condition.
How long will tint last?
We use professional high grade tint that will last, using a cheaper tint will degrade after time.
Do you accept card payments?
Unfortunately, we cannot currently accept card payments.
Payment terms are strictly cash on collection or cleared bank transfer before release of vehicle through faster payments.
What guarantee is there?
Our window tint is guaranteed for life and will far outlive the length of ownership of the vehicle.
We offer a standard 12 month guarantee for vehicle wrapping.
Is there anywhere to wait?
We do have a small waiting area if required, members of the public are not permitted under any circumstances to wait in the work area whilst installations are in process.
Do you offer a mobile service?
We do not offer our customers a mobile service where we would be required to work outside, a better result can be achieved in an enclosed space compared to working outdoors, limiting the dust and dirt that could become trapped in the film.
How do I buy a voucher as a present?
Please get in touch and we will be happy to arrange a voucher to be sent out to you or collected at a time to suit.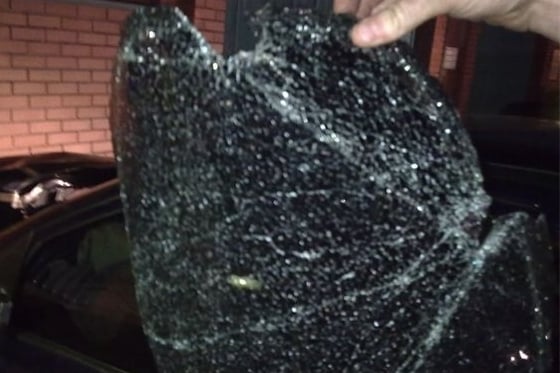 What does tint do in the event of an accident?
As you can see from the image the film stays in 1 piece even if the glass shatters, preventing flying shards of glass from being thrown across the vehicle in the face of occupants. It also becomes very easy to clean up and be disposed of in 1 piece.
I was also once told that police successfully retrieved a finger print from a smashed window which was held together with tints and was enough evidence to succesfully prosecute a crminal after a break-in.